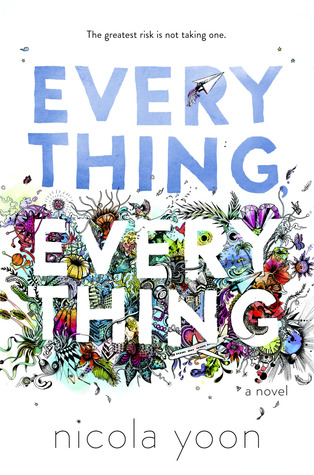 Title: Everything, Everything
Series: N/A
Author: Nicola Yoon
Genre: Young Adult, Contemporary
Publication: September 1st 2015, Corgi
Pages: 310, Paperback
Source: Thank you Netgalley!
Rating: 5/5 CUPCAKES!
Madeline Whittier is allergic to the outside world. So allergic, in fact, that she has never left the house in all of her seventeen years. But when Olly moves in next door, and wants to talk to Maddie, tiny holes start to appear in the protective bubble her mother has built around her. Olly writes his IM address on a piece of paper, shows it at her window, and suddenly, a door opens. But does Maddie dare to step outside her comfort zone?

Everything, Everything

is about the thrill and heartbreak that happens when we break out of our shell to do crazy, sometimes death-defying things for love.
Everything, Everything was perfect. It was heart-wrenching, it was heartwarming, it made my heart squeeze with happiness and it made my heart bleed with sadness. I fell head over heels for this book – more than I every thought I would. When I opened the first page of this novel, I had no way of knowing that it would soon bewitch me and become on of my new favourite books – but that's exactly what happened.
It's no secret that I adore contemporary novels and after having read many, I can safely say this has made my top ten. Let alone is it a book that's one of the best I've read this month, it's one of the best I've read this year. From the tragic topic, to the breathtaking romance, the characters who left imperishable footprints on my heart and the lyrical writing which snatched my breath away – Everything, Everything is all you've been wanting in a novel. It was so incredibly well-written and it just made me feel so much.
I should probably stop blabbering on about how much I loved this and tell you why. I'll start off with the main character, Maddy. I utterly adored her! She's such a unique character - she's kind, she's innocent, she's so incredibly brave and I absolutely loved the way her voice and her personality shone through the pages. Not only that, but she adores reading because that's how she learns about the world and about life - and her self. There are so many excellent quotes for book lovers in this book that will have you screeching "SO ME"...which is exactly what I did.
Then there's Olly - where can I find one like him for myself?! He's funny, sweet, loyal, caring and dammit, my expectation for guys have been raised yet again. I absolutely loved Olly SO MUCH.
Another character who stole my heart was Carla, Maddy's nurse who has been monitoring her health and taking care of her since she was little. I thought Carla was such a kind, caring person and I loved her so much! I love how Carla motivated MAddy, how she inspired her to live a better life and take a chance despite the bad hand that fate had dealt her.
Then there was the romance - MY HEART. I love the romance SO MUCH. It's not your average boy-next door story - it's 1000 times better and definitely sweeter. Communicating via notes written in marker pens on windows, stones thrown against glass panes, emails and IMs and eventually actual contact - IT WAS SO ADORABLE AND I LOVED IT MUCHLY. Their late night conversations and the writing on windows made my heart figuratively explode with the adorableness of it all. Maddy and Oliver with their love of books and formulas and each other are a fictional couple that have marched into my heart and are resolute to stay there.
I even drew fanart of Maddy and Olly. YES I LOVED THEM THAT MUCH.
I really enjoyed the plot of this book as well! Boredom never managed to find me whilst reading this and I was utterly captivated the whole way through.
The writing in Everything, Everything was absolutely stunning and it had me hoping that one day I might be able to write a book half as good. It was lyrical and poignant, infused with hope and ambition with a slight dusting of melancholy and a whole lot of glittering adorableness! There are so many haunting quotes in this book and I'm desperate to get my hands on a copy so I can read it all again, hug it (because I just love it THAT much) tab all the wonderful quotes and be enchanted by the mesmerizing writing yet again.
Everything, Everything is a touching, unforgettable novel about a a tragic situation.
It's an inspirational novel about finding the courage to live, even when it seems as if the world doesn't want it that way. With extraordinary characters, a devastating illness and purely magnificent writing, Everything, Everything is a book you need in your life.
I give it: 5/5 cupcakes!
Love is worth everything. Everything.
In my head I know I've been in love before, but it doesn't feel like it. Being in love with you is better than the first time. It feels like the first time and the last time and the only time all at once.
I decide then that love is a terrible, terrible thing. Loving someone as fiercely as my mom loves me must be like wearing your heart outside of your body with no skin, no bones, no nothing to protect it.
Wanting just leads to more wanting. There's no end to desire.
I read once that, on average, we replace the majority of our cells every seven years. Even more amazing: we change the upper layers of our skin every two weeks. If all the cells in our body did this, we'd be immortal. But some of our cells, like the ones in our brains, don't renew. They age, and age us. In two weeks my skin will have no memory of Olly's hand on mine, but my brain will remember. We can have immortality or the memory of touch. But we can't have both.