I have read some wonderful 2016 releases this year but there are still so many more I want to read (but that's a post for another time). Without further adieu, here are the top 2016 reads I've read this year!
1. Radio Silence by Alice Oseman
HOLY. FLIP. I loved this book so, so much. It spoke such a good message about accepting yourself, about doing what you want to please you. It was about friendships and fandoms and fanart and watching series while eating pizza. It was about parents and university and new beginnings and I loved it. My review is here if you need more persuading

(but seriously. Go read it now.).
2. Moonlight Dreamers by Siobhan Curham
Guys. I devoured this book. It made me cry because it spoke to me on such a personal level and it just got me. You should preorder this right now because it's a book that you do not want to miss. It's got family and friendship and cakes and trying to find your place in this world and Oscar Wilde. YOU NEED IT. Trust me.
3. Unrivalled by Alyson Noel
I loved this. I wasn't expecting to because it seemed like a frivolous kind of read but I was hooked. Morally grey characters, the shady scene of LA nightclubs and the disappearance of a famous actress with a suspicious past and an epic cliffhanger?! SO. GOOD.
Me throughout Unrivalled
4) Half Lost by Sally Green
THIS FREAKING BOOK TORE MY HEART OUT. I was an emotional wreck. I will never recover. It was such an epic but tragic end to a wonderful trilogy (I almost wrote tragedy instead. Eh, same thing.) READ IT.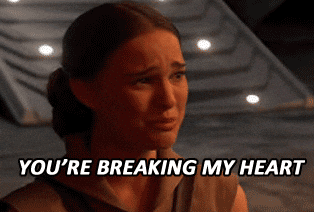 5) Love Song by Sophia Bennett
This was such a cute book. There was music, boy bands, falling in love, falling out of love, exotic locations...it was awesome. Seriously. At first I was scared I wasn't going to read it because (no offense to One Direction/5SOS/*insert boy band name here*) but sometimes the excessive amount of fangirling from those fandoms can get to me a teensy-weensy bit, but thank goodness there was only some of that in like, the first chapter. So GO READ IT. Music and drama and FUN.
6) How Hard Can Love Be? by Holly Bourne
Ah I loved this so much! I read it in a day or two and it was so much fun! There was feminism, America, a summer camp in America (which is basically my dream after watching so
many American movies as a kid), feminism, exploring, the sensitive topic of an alcoholic parent...it was SO GOOD. Holly Bourne can do no wrong.
7) On the Edge of Gone by Corinne Duyvis
Although this wasn't as thrilling as I would've liked, I loved the characters and the writing. There's an autistic main character who's trying to get her drug addict mom and her sister onto a ship that will take them to space as earth has been destroyed by a comet (if I remember correctly). It was really good and I loved it! Also: diversity. There were POC characters, transgender characters and a character with autism which I've never read about in YA before!
8) Chasing the Stars by Malorie Blackman
I didn't
love
this book. But I adored Vee (the main character) and her relationship with her brother. And despite the annoying love interest who I wanted to smack several times, it was an enjoyable read!
I haven't actually read Gemina yet but it's a 2016 release so I thought I would include it. Also, my copy of The Moonlight Dreamers needed a friend.
Those are the top 2016 releases I've read this year! What are yours? Have you read any of these and did you enjoy them?