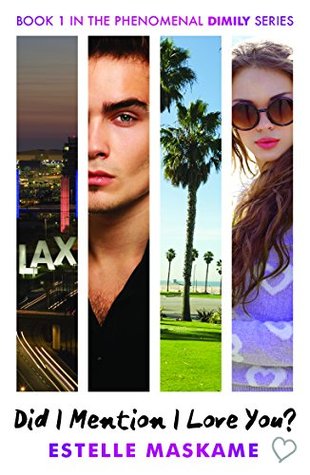 Title: Did I Mention I Love You?
Series: DIMILY #1
Author: Estelle Maskame
Genre: Young Adult, Contemporary
Pages: 421 Pages, Paperback
Publication: April 30th 2015, Black & White Publishing
Rating: 3.5/5 Cupcakes!
Source: Thank you to Black & White Publishing for sending me this book in exchange for an honest review. This has in no way affected my review!
When sixteen-year-old Eden Munro agrees to spend the summer with her estranged father in the beachfront city of Santa Monica, California, she has no idea what she's letting herself in for. Eden's parents are divorced and have gone their separate ways, and now her father has a brand new family. For Eden, this means she's about to meet three new step-brothers. The eldest of the three is Tyler Bruce, a troubled teenager with a short temper and a huge ego. Complete polar opposites, Eden quickly finds herself thrust into a world full of new experiences as Tyler's group of friends take her under their wing. But the one thing she just can't understand is Tyler, and the more she presses to figure out the truth about him, the more she finds herself falling for the one person she shouldn't – her step-brother.




Throw in Tyler's clingy girlfriend and a guy who has his eyes set on Eden, and there's secrets, lies and a whole lot of drama. But how can Eden keep her feelings under control? And can she ever work out the truth about Tyler?




Did I Mention I Love You is the first book in the phenomenal DIMILY trilogy, following the lives of Eden Munro and Tyler Bruce as they try to find their way in an increasingly confusing world.
When I first saw the glowing reviews for DIMILY that praised the intriguing story line and swoon-worthy romance, I knew I had to read it! I contacted the publishing company and was lucky enough to receive a review copy and I immediately started reading it, finishing it within hours. I wanted to love this book as much as everybody else, I wanted to explode with feelings and adoration for this book but unfortunately that wasn't the case.
Did I Mention I Love You? is the first book in the trilogy written by teen Wattpad sensation, Estelle Maskame. It features sixteen year old Eden Munro who goes to visit her father and his new family in Santa Monica, LA. Eden is expecting to be introduced to three little stepbrothers but when she arrives she's surprised to find that they are far from being six years old. There's eleven year old Chase, fourteen year old Jamie and the dark, brooding seventeen year old Tyler. At first Eden can't stand her oldest arrogant, sullen stepbrother but as she begins to spend time with him and his friends, she sees glimpses of a vulnerable, lost boy hidden beneath the cunning facade of recklessness. The more she tries to uncover the reason behind the anger and the devil may care attitude, she finds herself falling for the boy who is forbidden - her stepbrother.
Firstly, I love the premise and I love the setting. I can just imagine how awful it must be to fall in love with someone who you know you shouldn't, someone who is forbidden, someone who loves you equal amounts but someone who falling in love with will have society engulfing you in flames for your sin. It definitely added drama to the novel and I was hooked as I flicked through the pages, desperately needing to know how things played out. I also adored the setting. I've always wanted to spend a summer in LA and reading this book allowed me to live that fantasy! I read this book on a rainy, winter's day with frost lining the windowsill but despite that, I was languishing on the beach in the warm Los Angeles' sunshine, swept up in the whirling adventure of a girl falling into a forbidden romance in the City of Angels. The setting was captured perfectly and the essence of summer spilled from the pages enveloping me in its warmth. Did I Mention I Love You? is the perfect book to read when you need to escape the barren land of winter.
I also thought the writing was very good, especially as Estelle was so young when she wrote DIMILY. The writing flowed smoothly without disruption, the dialogue was perfect, it wasn't cheesy or awkward like many contemporaries I've read. It was funny, it was heart-breaking and the writing was really what increased my enjoyment of this novel. Did I Mention I Love You? is a highly addictive read. I flew through this book. I'm generally quite a slow reader and I also struggle to read a book in one sitting, but I read over half this book in two hours which just proves that this book had me utterly hooked. Despite all the issues I had with this book I did care somewhat for the characters and I did want to know how things would end in this installment and I do want to read the rest of the trilogy because I can see the characters have potential to grow and it's also blatantly apparent that Estelle has a lot of talent and I'd like to see how she further incorporates this into future novels.
Did I Mention I Love You? was intriguing, as I had said and it never once made me lose interest. There were some revelations that made me clap my hand over my mouth and gasp "No." which a book hasn't made me do in awhile. It had me laughing and it had me crying towards the end so it's definitely an immersive read and I'm sure as I read the rest of the trilogy I will get even more immersed into the tumultuous life of Eden and Tyler.
The characters all had depth as well. Although I didn't like most of them, it can't be said that they were flat characters. Each had their own personality that vibrantly burst from the pages demanding my attention. They were complex and three dimensional which is always a must for me when reading a book!
However, like I said, there were quite a few things that bothered me about this book. Firstly, there are many dark topics included in this book and I wasn't happy with how they were dealt with. I feel like this book trivializes the aforementioned topics and it doesn't honestly portray the repercussions of the destructive addictions the characters indulge in. Some of the characters are in dire need of help but the book neglects to underline how life-threatening their habits are. Tyler takes cocaine, smokes weed and drinks a lot but he shows no symptoms of the detrimental impact his lifestyle is putting on his body. I don't know what the side effects of substance abuse is but I know it doesn't allow you to function like a normal person. It just wasn't written honestly enough, There wasn't a recovery process in this book (perhaps it's in the sequels?) but the book seemed to hint that Tyler could just stop like that and if you're addicted to something (which he must be as he does it daily and says at times he needs it), you need external help. It also bothered me that no one made an effort to get Tyler clean even though he's growing more dependent on drugs to help suppress the pain he feels. When Eden discovers I was really disappointed that she didn't tell Tyler's mom. I know she barely knew him and probably thought it wasn't her place to get involved but if it were my stepbrother at a party doing hardcore drugs I wouldn't sit back and watch his fall to destruction, I would ask his parents to get him help. Tyler binge drinks until he passes out and was in a seizure from drug abuse once but his friends never sought medical attention and just waited for him to regain consciousness which really confused me. Surely you can't just come out of something like that with no side effects?
Secondly, Eden clearly has an eating disorder. She runs instead of eats, at every mention of a meal she either picks at her food, gets rid of it or doesn't eat and mentions a couple of times about her low self-esteem and bad body image. Surely she would feel weak and tired doing these things, or perhaps feel faint whilst running? She too like Tyler functions like a healthy human being and I think she author should've emphasized the dangers of under-eating and drug abuse and allowed an adult to notice the struggles both her and Tyler were going through and get them help. I'm hoping that Eden and Tyler will help each other through their problems but that's not something I'm particularly fond of that books generally seem to contain - that being in a relationship will solve your problems.
Secondly, I didn't really like any of the characters. The only ones I really liked were Ella, Jamie and Chase. They seemed like such lovely people and I wish they had played a bigger part in the book. I never really connected with Eden from the first few pages and that didn't improve throughout the book. She was naive, impressionable and slightly hypocritical. She complained about Tyler drinking but then she did the exact same thing which confused me. How can you be a positive influence in someone's life who has substance addiction if you're doing the same thing? She also initially seemed uncomfortable with partying and such but she always went along with Tiffani/Rachael/Meghan's partying habits.
Tyler...I don't know how I feel about him. I spent 90% of the book believing him to be a jerk and I still kind of think he is, but after he revealed what happened to him in his past I can understand slightly more why he acts the way he does. However, I don't think he had to be so rude, controlling and so terrible at decision making to such an extent...however, you can see both him and Eden have good hearts and I'm hoping that they'll make better decisions in the following books. You could see he had a good heart with subtle hints such as by warning Eden to stay away from one of the characters who uses girls even though he barely knew her, by never getting behind a wheel when he was intoxicated and by the heartwarming moments he shared with his mother and brothers.
The other characters I couldn't really warm up to, although I didn't mind Rachael and Dean that much, despite them being too fond of alcoholic beverages. I could've liked all the characters more if they didn't just drink and party. I know a lot of people like this book because it depicts teenagers realistically but I know a lot of teenagers, myself included, who don't smoke/drink/do drugs and I really wish the author had at least one character in here who didn't succumb to that lifestyle, someone who could break the stereotype.
I also don't understand the parents in this book. I really liked Ella and Eden's mother and I adored the relationship between Eden and her mom - I hope that features more in the next book! However, Eden's dad and Ella never disciplined them enough. I can understand why Ella was hesitant to discipline Tyler but Eden's dad had no excuse when it came to restricting her activities. She would stay out late and drink and do it several times yet the next day she was let out again. Surely parents can't be that lenient?
The romance...I'm not sure how I feel about it. There was definitely chemistry between Tyler and Eden towards the end however I never really fully felt that attraction between them. It took them awhile to confess their feelings however, Eden was already stating that she was falling for him quite early on and I didn't exactly see how. Tyler was everything I would avoid in a guy, he was disrespectful, rude, engaged in substance abuse and I wasn't very happy with the way he spoke to women at times. He completely disregarded their feelings, spoke like he could control them and treated them like property almost. Examples:
"Move your cute ass out of my way before you [Eden] really piss me off."
"You were becoming my distraction...but apparently I can't have you."
Firstly, you can't have her because she's her own person and doesn't belong to anybody but herself. Secondly, by stating that you want her as a distraction almost implies that's all that you want her for. I must say though, that despite my misgivings on them earlier on by the end of the book they did seem as if they would be good for each other. They both need to receive love and you can clearly see they do genuinely care for each other and I
am
rooting for them despite their unfortunate circumstances.
*Spoilers (kind of)*:
Another thing I must mention before I round off this review, is I was upset about the cheating and I still don't know how I feel about it. Clearly Tyler's girlfriend Tiffani has some serious issues with being clingy, manipulative and evil and the only reason Tyler was with her was because she knew too many of his secrets that she wouldn't be afraid to spill if they broke up, and Tiffani was only with Tyler to improve her popularity and reputation but I
still
wasn't happy about. I was more upset with Eden than with Tyler as there was no love between him and Tiffani but Eden didn't know that at first and she still gave into her temptations despite knowing that was tempting someone into cheating. I didn't really mind so much after discovering that Tiffani was indeed quite psychotic but...ya know?
Overall, I'm quite undecided about Did I Mention I Love You?. It was an addictive read that had me turning the pages furiously, secrets that had me gasping out loud, drama that had me captivated the whole way through, complex characters and revelations that had me in tears joined seamlessly together by lyrical writing. It allowed me to be engulfed in the eternal flames of summer and in the complicated lives of two teenagers falling into a forbidden romance - a perfect escape from this grey January. However, there were things that bothered me about this book that prevented me from enjoying it fully. Despite that, I will be reading the next one as Estelle is a talented author and I look forward to seeing where she takes Eden and Tyler in the rest of the trilogy.
I give it: 3.5/5 cupcakes!
- Drug abuse
- *
Child abuse
* (This could be considered spoilery, so highlight if you would like to read)
- References to an eating disorder
- Cheating
- Scenes of drug and alcohol use
- Implicit sex scene/brief mention of other sexual activities
- "F" word used several times