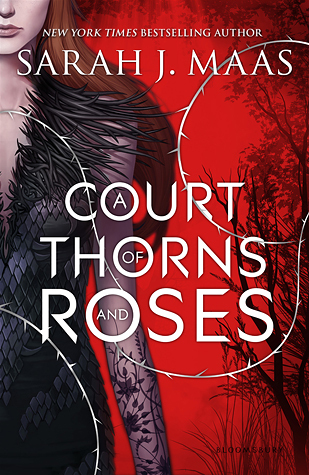 Title: A Court of Thorns and Roses
Series: A Court of Thorns and Roses #1
Author: Sarah J. Maas
Publication: January 1st 2015, Bloomsbury Children's
Pages: 416 Pages, Paperback
Source: Thank you so much to Tammy for sending me this to review when I agreed to participate in the ACOTAR blog tour!
Rating: 5/5 Cupcakes!
A thrilling, seductive new series from New York Timesbestselling author Sarah J. Maas, blending Beauty and the Beast with faerie lore.


When nineteen-year-old huntress Feyre kills a wolf in the woods, a beast-like creature arrives to demand retribution for it. Dragged to a treacherous magical land she only knows about from legends, Feyre discovers that her captor is not an animal, but Tamlin—one of the lethal, immortal faeries who once ruled their world.




As she dwells on his estate, her feelings for Tamlin transform from icy hostility into a fiery passion that burns through every lie and warning she's been told about the beautiful, dangerous world of the Fae. But an ancient, wicked shadow grows over the faerie lands, and Feyre must find a way to stop it . . . or doom Tamlin—and his world—forever.




Perfect for fans of Kristin Cashore and George R. R. Martin, this first book in a sexy and action-packed new series is impossible to put down!
When I got an email to participate in the blog tour for A Court of Thorns and Roses, I immediately jumped at the chance! Literally every person I speak to in the blogosphere praises Sarah J. Maas' writing and her rich, complex story lines and authentic characters. Despite being ecstatic to finally read one of Sarah's books, I was nervous too. All her books have been so hyped up, that I was afraid my sky-high expectations would come plummeting down - however, that was not the case. I can finally understand why people adore Sarah J. Maas' books so much and it is evident that she obtains a natural dexterity to weave intricate tales seamlessly together.
I absolutely adored A Court of Thorns and Roses and I can safely say it's one of my new favorites. A Court of Thorns and Roses features a nineteen year old huntress named Feyre. After killing a wolf in the forest, her front door is slammed down and a magnificent beast enters demanding to know who killed the faerie in the woods. After Feyre admits to killing the faerie (who she learns was the wolf she struck) the beast states that she broke the treaty and she'll now have to reside in the fae land of Prythian for eternity. Feyre is wracked with anxiety, worrying about her safety among the lethal faeries, the well-being of her family and the breaking of the promise to her deceased mother to ensure her family's safety and protection. However, she goes. To her surprise, she is treated as a guest, the Fae tolerate her and her captor, Tamlin, who transformed into a faerie from a beast, treats her with utmost respect and kindness. As Feyre begins to fall for Tamlin and forms a begrudging relationship of tolerance with Lucien, Tamlin's emissary, and becomes to feel some sort of acceptance and happiness, a darkness is seeping into the Spring Court and Tamlin's powers are fading, leaving him, Feyre and the rest of the fairy court naked to the malevolent powers surging in the horizon. Feyre's whole new life filled with happiness and love and dazzling opportunities is hanging by a thread and she might be the only one able to save herself, Tamlin and the whole of the Fae kingdom.
I really loved this book. The characters were beautifully broken, the story line was intriguing, the romance breathtaking and the writing mesmerizing. It had the kind of writing that makes you feel like you are being enveloped by a magical presence, because you not only feel like you are involved with the characters' lives and know them personally, you feel like you are there. Experiencing every heartbreak, every sickening twist, every act of heart-wrenching cruelty and betrayal, as well as the delectable taste of freedom and the spell-binding essences of love. Sarah's writing truly is incandescent, magical, so utterly ethereal that I wish I could submerge myself in it entirely.
The plot of this book was enthralling. I will admit that I found the beginning quite slow but once I had ventured deeper into the book I appreciated that Maas did that as it fully allowed me to understand Feyre's world before she's thrust into the treacherous land of Prythian and it allowed me to then fully emphasize in the huge shift from numb, cold-hearted huntress to the Feyre who allows herself to live and to dream, to appreciate the stark contrast between her previous life and her current life. However, once Feyre was whisked away to Prythian I drank up the words like a wanderer stumbling upon an oasis in the desert. The pages flickered by as I found myself sinking deeper and deeper into the luxuriously terrifying world that Maas had so magically crafted, the suspense grew with each passing chapter and my heart would clench in terror as I would read about the desolate trials that my heroic new fictional friends had to suffer through and then a couple of pages sing with joy at the dazzling love and kindness and wonderfulness that cascaded off the pages. I became mesmerized by this book and with each page I fell in love with it slightly more.
Then there are the characters. The fierce, brave, honest, authentic characters with their realistic flaws, their mind-numbing fears and the overwhelming desire to be loved and their abundant capacity to love. Characters who have endured torturous events and survived, rising stronger from the rubble, a phoenix emerging from the ashes. I loved how Maas allowed us to become fully acquainted with the characters; how she revealed enough of their inner essence to allow us to root for them or at the very least, to understand them. Even regarding the villains, she reveals enough about their tormented, blood covered pasts and the inner workings of their minds, to allow us the chance at understanding the motives behind their devastatingly cruel actions.
I loved how all the characters grew throughout the book, there was a distinguishable difference between who they were and who they are now. I really admired the characters. They had gone through so many trying times and as heart-breaking as it was to see each character that I cared about tormented and mentally demolished into fragments of who they once were, it was equally inspiring to see them collect together those remnants and piece them back together, constantly pursuing despite the vicious obstacles thrown their way. Lately my anxiety has been quite severe again and reading about Feyre, Tamlin and Lucien's struggles, it gave me hope. That no matter how difficult your current situation, if you keep on fighting and you keep on hoping, that things will get better. I really loved ACOTAR for that.
The characters themselves were so lovable. I adored Feyre. I admired how fiercely she tried to keep her vows, how dedicated she was to protecting her family and how determined she was to do the right thing. Feyre possessed traits that shouldn't have worked so smoothly in conjunction but which flawlessly did. She was thoughtful, caring, valiant and loyal, stubborn and determined. I just loved her character so much. She almost reminded me a bit of Katniss with how she wanted to protect her family and her bravery and that soft heart beneath the hardened exterior. Feyre is just such an amazing character and she's just so real. Like it feels almost like sacrilege to call them "characters" because to me they feel not like characters but people. I also like how Feyre can be really tough when she needs to be but also allows us to see her vulnerable, sensitive side. Like the part where she stays by a dying fae's side and holds their hand makes me want to ugly tears. It was such a beautiful moment and one that allowed us to see Feyre's fears and wishes and respect for others. She's definitely one of my new favorite heroines.
I LOVE TAMLIN. He's just...incredible. He's such a gentleman and he's so kind and caring and selfless and generous and I'm just completely in love with him. It was so painful to see him suffer through so many ordeals knowing how kindhearted. I really admired Tamlin for how he was determined to be a different kind of ruler, one that doesn't encourage the shedding of blood and the silencing of the helpless voices of slaves, but one that listens and cares and wants to make a difference. He's utterly amazing and definitely one of my new top book boyfriends!
I also adore Lucien! At first I wasn't really certain about him, but his snark and humor won me over. I love the banter between him and Feyre - it's flawless. I love how at first they can't stand each other, but by the end of the novel they have somewhat of a tolerance of each other, and despite getting annoyed with each other they will protect and stick by each other. I love Lucien though and his backstory is also SO SAD. Why must my babies be tortured so?!
The romance is perfection. It's one of those where the protagonist hates the love interest but slowly, steadily they begin to fall for each other. The raw beauty of the romance was flawlessly done. Feyre and Tamlin's love was a roaring, passionate one where their love was powerful enough to feel near to tangible. It brought tears to my eyes how much they cared for one another and the amount of sacrifices they went through in order to save the other. It was sizzling, it was real, it was breathtaking. Their love for each other radiated from the pages and it was pure and wonderful - a once in a lifetime kind of love.
A Court of Thorns and Roses was a spectacular fantasy novel that stole my breath away, induced tears to run from my eyes and laughter to escape my lips. My heart ached at the tragedies that occurred and every betrayal, every hurt, every terror that the characters faced, I faced alongside them. Every radiant occurrence of love, acts of kindness or cheerful laughs made my heart soar. I felt everything in this book, and that is clear evidence that an author is truly capable of producing magic. The characters, the dialogue, the rich, complex plot, the sizzling romance and the magnificent fantasy world combined impeccably to create a novel that is magic itself. I loved this book and I can guarantee that you will too! A new favorite.