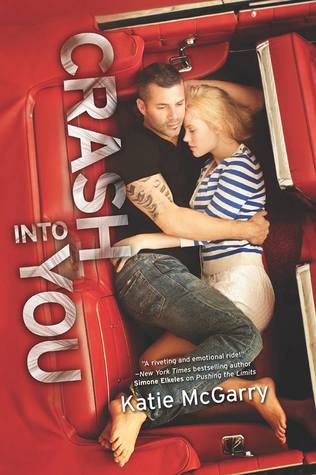 Title: Crash Into You
Series: Pushing the Limits #3
Author: Katie McGarry
Genre: Young Adult, Contemporary, Romance
Publication: November 1st 2013, Harlequin Teen
Pages: 474 Pages, Kindle
Source: Thank you to Netgalley for sending me this book in exchange for an honest review!
Rating: 4.5/5 Cupcakes!
From acclaimed author Katie McGarry comes an explosive new tale of a romance forged in the fast lane.




The girl with straight A's and the perfect life—that's who people expect Rachel Young to be. So the private school junior keeps secrets from her wealthy family…and she's just added two more to the list. One involves racing strangers down dark country roads in her Mustang GT. The other? Seventeen-year-old Isaiah Walker—a guy she has no business even talking to. But after the foster kid with the tattoos and intense gray eyes comes to her rescue, she can't get him out of her mind.




The last thing Isaiah needs is to get tangled up with a rich girl who wants to slum it on the south side for kicks. But when their shared love of street racing puts their lives in jeopardy, Isaiah and Rachel will have six weeks to come up with a way out. Six weeks to discover just how far they'll go to save each other.
I have been marathoning all Katie McGarry's books lately! I read Pushing the Limits back as an arc when it was first published back in 2012 and while I really enjoyed it, it wasn't my favorite contemporary. Then I read Nowhere But Here (her latest release) two weeks ago and I LOVED it, like you know when you're completely in love with a book? That happened to me with Nowhere But Here! Then I decided to continue the PtL series and so I read Dare You To and OH MY GOSH MY MIND WAS BLOWN. That book just made me feel everything. I was like, 100% involved in that book constantly.
And then I finished it and I was in a total book hangover. So then I thought, "Well, what's better way to recover from a Katie McGarry book than read another Katie McGarry book?" And while it helped slightly, I was still so caught up in Dare You To's story that I didn't feel as deeply emotionally connected to Crash Into You and I wasn't as absorbed in Rachel and Isaiah's story as compared to Beth and Ryan's story as I really just didn't ever want that book to end. Ever. It was still an excellent novel but there were a couple of things that kept me from fully loving it, but that was my own fault because Dare You To was just SO GOOD and I don't know how any book is going to top that this year to be honest.
Crash Into You is the third book in the Pushing the Limits series and shares the viewpoints of Isaiah Walker and Rachel Young! Isaiah is the notorious "bad boy", the guy with the earrings and the tattoos that scream "stay away". he feels unwanted and broken due to the continuous rejections he's had in his life and the upheaval he has faced due to being shifted from one foster home to the other. The only thing that makes Isaiah feel fully and completely whole is the cars he works on after school and the cars he sometimes races as well. One night at an illegal drag racing event, he meets private school girl Rachel Young, who puts on the facade of a perfect, sensible teenage daughter, meanwhile she's obsessed with cars and addicted to driving her Mustang at ridiculous speeds at night without her parents' consent. When Rachel makes what could potentially be a fatal mistake with the dangerous head of the drag racing community, Eric, Isaiah offers to help her earn the money that will pay off her fault. Throughout the course of the next six weeks, Isaiah and Rachel will form a deep, beautiful relationship that will prove to be unbreakable, as they give each other strength and - with the help of the other - to overcome the twisted turmoil simmering inside themselves, controlled by their personal demons.
I really enjoyed this book! I LOVE Isaiah, I really like Rachel, I loved the themes in this book and I loved the writing, however, there was just a couple of things I have complaints about that prevented me from fully loving Crash Into You.
Firstly, I loved the concept of this almost secret kind of organisation where people gather on the streets to risk their lives at break-neck speeds for that intoxicating adrenaline high. I generally hate car books because they bore me to death, but Katie McGarry wrote in a way that I understood Rachel and Isaiah's passion. The way she wrote made me intrigued as well, as to why people would love cars so much and why they would want to experience that adrenaline of speeding. Those things I never understood before, but after reading Crash Into You, I get it. In fact, I started getting interested in cars myself and never did I think I would say that. Ever.
I really loved the characters in this book, specifically Isaiah. I was SO excited to learn about Isaiah because I loved him so much in Pushing the Limits and Dare You To! Oh my gosh, when Beth broke his heart in DYT I just couldn't handle it I was like"MY POOR BABY". I just wanted to hug him and tell him that he was worthy and that he meant something to people. Isaiah believed that he was worthless, in a way, due to constant rejection he had faced in his life as a foster kid. He doesn't value himself at all and you could just see he was brimming with this burning desire to be loved. When he told the story of the tattoos and how he had to get the tattoos, and had to drink and smoke and get into fights, so that he could create this facade that would aid in his escapement of being bullied and threatened by people bigger and stronger than him, I teared up It was emotionally heartbreaking to see this toughened exterior stripped away and to see the raw pain emanating from him and OH MY GOSH THE FEELS. I just love Isaiah so much. Seriously. I want an Isaiah.
Another new character we were introduced to was Rachel. Rachel goes to a private school, is a straight A student and tries to be utterly perfect in the eyes of everybody. She was doing pretty well with that until she started getting extremely bad panic attacks due to her having to do speeches in public and she landed up in hospital because of the severity of her attacks.

Rachel is put under such pressure by her parents and her brothers as she is seen as the replacement in her family, to her older sister, Colleen, who died of leukemia before Rachel was born. She is completely aware that she has taken on the job that requires constantly pleasing her mother and being the perfect daughter: to be like how Colleen would've if she hadn't passed away. Rachel also has to deal with her four older brothers that are SO PROTECTIVE, she can't talk to guys let alone look at them without her brothers nearly attacking the poor kid. She basically can't do anything because she's seen as weak by her family due to her panic attacks. I could understand why they were so protective as their other sister had passed away and Rachel is such a valuable member of the family as she's seen as Colleen's replacement and she's the only girl and she's the youngest but GOSH, give the girl some breathing space.

So I could totally understand why Rachel felt like she had to be perfect and why she did the things she did, but one thing I didn't like about Rachel is that she did sometimes act quite weak. Not that that's the problem, because we all have our flaws and we all have some things that we don't cope with well, but I felt like because Rachel was so irritated by being treated like a weakling she should've been tougher. She fell apart at a lot of things and I believe that's why people believed she needed protecting and she would get so mad at people but (especially towards the beginning) she showed that she was quite naive and she gave people reasons to defend her.

She definitely grew throughout the book and became stronger towards the end. I admired her for standing up for what she believed in and having to strength to tackle her inner demons. I really liked Rachel and that's the only little thing I could think about her that I didn't really like! Rachel is probably the character I can relate to the most out of Katie McGarry's books, as she's quite shy and awkward and anxious like me so, hey, at least we have things in common.
We were also introduced to other characters in this novel, such as Rachel's four older brothers (I'm excited to read West's POV in the next book - I think that's going to be quite interesting!) and Abby, one of Isaiah's good friends. Oh my gosh, I LOVE Abby! You can see she's had a dark past that has threatened to consumer her and you could sense through Crash Into You that despite the resilient exterior, she is quite broken and needs someone to rely on. I can't WAIT to read Abby and Logan's story as I already ship them. That novella is going to be good guys, I can feel it. It was also interesting to meet Rachel's brothers and I look forward to reading from one of their perspectives next. I was actually surprised that Katie McGarry wrote from West's perspective, as he wasn't a character I really liked in Crash Into You - so it will be interesting to see if my thoughts on him change!
Also: we got to see Beth, Ryan, Logan, Chris, Noah and Echo and it was AWESOME. It was like seeing long-lost friends again. Ahh! :')
The relationship between Rachel and Isaiah was absolutely adorable! I loved how they had complete opposite personalities, but how it ended up being perfectly as it balanced the two extremes. I loved how they were always there for one another, I loved how they cared so much for one other, I loved how with a single touch, a single gaze, a single word they could extend their safely stored strength to the other, in order for the other one to burn like an ignited flame in the dark: for them to feel warm, for them to feel worthy, for them to feel like with the other, they have a chance to fight against the thickening darkness that threatens to consume them. I'm just darn happy that Isaiah finally has someone who loves him unconditionally and that when Rachel is with Isaiah, she believes she can take on the world. It really was beautiful.
The only things I didn't really find favorable in Crash Into You, is that I didn't find this instalment as addicting and I didn't find myself completely absorbed in the story constantly, but I think that was because I was in a semi book-hangover/reading slump from Dare You To. I also thought that the romance was quite insta-lovey at first and that Rachel and Abby's friendship progressed too swiftly, but it made up for that when I continued reading and saw the beauty in Rachel and Isaiah's relationship and in Rachel and Abby's friendship. I think the relationships in this book became too intense too quickly, but other than that, it was pretty much perfect!
So overall, I found much pleasure in the third instalment in the enthralling Pushing the Limits series. I was extremely pleased that I was provided with the chance to gain more of an insight into Isaiah's world and that I had the chance to become acquainted with Rachel and Abby! The romance in this book was beautiful and after I closed the book, I found myself wishing that I had my own Isaiah because he's just too lovely. I loved the aspect of drag racing and the lengths to which some people will go to have an adrenaline high and it was incredibly interesting learning about cars and racing and all sorts. I highly recommend this book and this whole series in general, especially if you're a fan of intricately weaved background stories, happy endings and sizzling romances. READ THESE BOOKS. But Isaiah's mine, just sayin'.
I give this book: 4.5/5 CUPCAKES!