I got another awesome haul this week that I am really looking forward to reading!
1. All the Wrong Questions - Lemony Snicket
In a fading town, far from anyone he knew or trusted, a young Lemony Snicket began his apprenticeship in an organization nobody knows about. He started by asking questions that shouldn't have been on his mind. Now he has written an account that should not be published, in four volumes that shouldn't be read. This is the first volume.




The first volume in the four-part autobiographical account of his childhood, called All the Wrong Questions, will be released on Oct. 23, 2012. This will be Snicket's first new series since the wildly popular A Series of Unfortunate Events.
"We aren't just service dog and master; Tuesday and I are also best friends. Kindred souls. Brothers. Whatever you want to call it. We weren't made for each other, but we turned out to be exactly what the other needed."




A highly decorated captain in the U.S. Army, Luis Montalván never backed down from a challenge during his two tours of duty in Iraq. After returning home from combat, however, the pressures of his physical wounds, traumatic brain injury, and crippling post-traumatic stress disorder began to take their toll. Haunted by the war and in constant physical pain, he soon found himself unable to climb a simple flight of stairs or face a bus ride to the VA hospital. He drank; he argued; ultimately, he cut himself off from those he loved. Alienated and alone, unable to sleep or bend over without pain, he began to wonder if he would ever recover.




Then Luis met Tuesday, a beautiful and sensitive golden retriever trained to assist the disabled. Tuesday had lived amongst prisoners and at a home for troubled boys, blessing many lives; he could turn on lights, open doors, and sense the onset of anxiety and flashbacks. But because of a unique training situation and sensitive nature, he found it difficult to trust in or connect with a human being -- until Luis.




"Until Tuesday" is the story of how two wounded warriors, who had given so much and suffered the consequences, found salvation in each other. It is a story about war and peace, injury and recovery, psychological wounds and spiritual restoration. But more than that, it is a story about the love between a man and dog, and how together they healed each other's souls.
3. Where Lions Roar At Night - Rosie Boom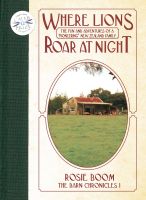 Where Lions Roar at Night is an engaging read-aloud for the whole family. Enjoy the fun, adventures and dramas of a modern day 'pioneering' family as they begin home-steading in rural N.Z.




Ten-year-old Milly had always dreamed of living in the country and owning all sorts of animals. So when her parents buy a piece of land and move their six children into a ninety-year-old barn, Milly can't believe her luck.

But she never imagined that living the simple life would include mucking out a filthy water tank, gathering endless supplies of firewood, clearing the land, and rescuing animals in a 'hundred year' storm. Nor did she expect to hear deep groanings in the night…




The first book in the multi-award winning series, The Barn Chronicles, Where Lions Roar at Night won the 2010 Australasian CALEB Prize for children's books. *From Smashwords*
4. Waiting For You - Susane Colasanti
At the beginning of her sophomore year, Marisa is ready for a fresh start and, more importantly, a boyfriend. So when the handsome and popular Derek asks her out, Marisa thinks her long wait for happiness is over. But several bumps in the road—including her parents' unexpected separation, a fight with her best friend, and a shocking disappointment in her relationship with Derek—test Marisa's ability to maintain her new outlook. Only the anonymous DJ, whose underground podcasts have the school's ear, seems to understand what Marisa is going through. But she has no idea who he is—or does she? In

Waiting For You

, this third romantic novel from Susane Colasanti, Marisa learns how to "be in the Now" and realizes that the love she's been waiting for has been right in front of her all along

.
5. Soldier Dogs - Maria Goodavage
A leading dog-blogger offers a tour of military working dogs' extraordinary training, heroic accomplishments, and the lasting impacts they have on those who work with them.

People all over the world have been riveted by the story of Cairo, the Belgian Malinois who was a part of the Navy SEAL team that led the raid on Osama bin Laden's compound. A dog's natural intelligence, physical abilities, and pure loyalty contribute more to our military efforts than ever before. You don't have to be a dog lover to be fascinated by the idea that a dog-the cousin of that furry guy begging for scraps under your table-could be one of the heroes who helped execute the most vital and high-tech military mission of the new millennium.

Now Maria Goodavage, editor and featured writer for one of the world's most widely read dog blogs, tells heartwarming stories of modern soldier dogs and the amazing bonds that develop between them and their handlers. Beyond tales of training, operations, retirement, and adoption into the families of fallen soldiers, Goodavage talks to leading dog-cognition experts about why dogs like nothing more than to be on a mission with a handler they trust, no matter how deadly the IEDs they are sniffing, nor how far they must parachute or rappel from aircraft into enemy territory.

"Military working dogs live for love and praise from their handlers," says Ron Aiello, president of the United States War Dogs Association and a former marine scout dog handler. "The work is all a big game, and then they get that pet, that praise. They would do anything for their handler." This is an unprecedented window into the world of these adventurous, loving warriors.
6. Weird Things Customers Say in Bookshops - Jen Campbell
From the hugely popular blog, a miscellany of hilarious and peculiar bookshop moments:

'Can books conduct electricity?'

'My children are just climbing your bookshelves: that's ok... isn't it?'





A John Cleese Twitter question ['What is your pet peeve?'], first sparked the 'Weird Things Customers Say in Bookshops' blog, which grew over three years into one bookseller's collection of ridiculous conversations on the shop floor.




From 'Did Beatrix Potter ever write a book about dinosaurs?' to the hunt for a paperback which could forecast the next year's weather; and from 'I've forgotten my glasses, please read me the first chapter' to'Excuse me... is this book edible?'





This full-length collection illustrated by the Brothers McLeod also includes top 'Weird Things' from bookshops around the world.
1. Barbie Girl - Heidi Acosta
The only thing that 17 year old Barbie Starr wants to do is graduate high school so she and her little brother, Everett, can get out of Alabama. She doesn't care about the rumors that are spread around about her like wild fire. Rumors are nothing new to her. Sure, maybe she could change her reputation, but why bother. She is leaving Alabama as soon as she can. That is, if she can pass algebra and graduate.




The only thing Dylan Knight would like to do is go through high school unnoticed; he has had enough of the drama that is high school. He took the whole of last summer to bulk-up: finally he is not being called names or being shoved into lockers. He wants to remain on the outside of the circle of constant rumors that surround the so-called popular kids who get all the attention. He would not, however, mind if his long time crush Katie took notice of him.




But it is Barbie who notices Dylan and she offers him a deal he can't pass up: if he helps her pass algebra, she'll help him get the girl of his dreams. Dylan agrees, but, as it turns out, nothing is simple when it comes to Barbie. Somehow, she can't help but draw attention to herself — and to him. Soon Dylan finds himself tossed into the whirlwind of rumors that seem to follow Barbie everywhere. Can he save his reputation and still get the girl of his dreams? Or will Barbie be the one to break through his carefully-built facade?
2. Angel Eyes - Shannon Dittemore
Once you've seen, you can't unsee. Everything changes when you've looked at the world through . . .




ANGEL EYES




Brielle's a ballerina who went to the city to chase her dreams and found tragedy instead. She's come home to shabby little Stratus, Oregon, to live with her grief and her guilt . . . and the incredible, numbing cold she can't seem to shake.




Jake's the new guy at school. The boy next door with burning hands and an unbelievable gift that targets him for corruption.




Something more than fate has brought them together. An evil bigger than both of them lurks in the shadows nearby, hiding in plain sight. Two angels stand guard, unsure what's going to happen. And a beauty brighter than Jake or Brielle has ever seen is calling them to join the battle in a realm where all human choices start.




A realm that only angels and demons—and Brielle—can perceive.
3. Br

oken Wings - Shannon Dittemore
Giant angels with metal wings and visible song. A blind demon restored from the pit of darkness. And a girl who has never felt more broken.




Brielle sees the world as it really is: a place where the Celestial exists side by side with human reality. But in the aftermath of a supernatural showdown, her life begins to crumble. Her boyfriend, Jake, is keeping something from her—something important. Her overprotective father has started drinking again. He's dating a much younger woman who makes Brielle's skin crawl, and he's downright hostile toward Jake. Haunting nightmares keep Brielle from sleeping, and flashes of Celestial vision keep her off kilter.




What she doesn't know is that she's been targeted. The Prince of Darkness himself has heard of the boy with healing in his hands and of the girl who sees through the Terrestrial Veil. When he plucks the blind demon, Damien, from the fiery chasm and sends him back to Earth with new eyes, the stage is set for a cataclysmic battle of good versus evil.




Then Brielle unearths the truth about her mother's death and she must question everything she ever thought was true.




Brielle has no choice. She knows evil forces are converging and will soon rain their terror down upon the town of Stratus. She must master the weapons she's been given. She must fight.




But can she fly with broken wings?
4. Insight - Jolene Perry
Micah hates her ability to "see" things when she touches people. She's terrified of relationships, holds on to guilt over the death of her classmate, Lacey, and has no idea what to do with a vision from Landon, a boy from her school. She feels him falling for her, but Micah doesn't do friends, much less relationships.




Enter a spooky history project about a tragedy from three hundred years ago, and voodoo dolls that Micah somehow feels has to do with her gift. Suddenly she's sure the shadows in the woods are following her every move—without Landon's relaxed attitude about what's happening in her life, Micah would be sure she's going crazy.




With no ideas on timing or specifics, the visions of both herself and the people she cares about are turning dark—and it appears the shadows around her house do move on their own. But as Micah and Landon try to prevent Micah's visions of the future, the shadows close in, and they're now afraid they've become the cause…




Micah's story is the first of three girls, with unique talents, who are part of a 300 year old tragedy that follows them in the shadows.
5. Manipulation - Jolene Perry
Addison Prince has almost always gotten what she wants.

Dean Courser only wants to find his brother, but it's the one thing he's failed at... Even with his unusual ability.




Dean and Addison share the gift of Manipulation—a brief touch that forces others to do what they wish. But when they meet and realize their connection, they find more questions than answers. Suddenly Dean is seeing shadows move on their own, and Addison is learning her father's mysterious group may know more about her abilities than he's ever let on.




As Dean and Addison second-guess every decision about who they are and why they're wanted, time is running out. With shadows following their every move, they're losing hope they'll ever get to safety—if such a thing exists.
6. Lizzy Speare and the Cursed Tomb - Ally Malinenko
MEET LIZZY SPEARE…




…a normal twelve year old girl with a talent for writing, who has a very not normal family secret. And when Lizzy's father vanishes, that secret will change her life in ways unimagined. (Spoiler Alert! It turns out that Lizzy, or Elizabeth S. Speare, is the last living descendant of William Shakespeare. Shhh! Don't tell anybody!)




Then Lizzy and her best friend Sammy are kidnapped, awakening in the faraway land of Manhattan. Their host is Jonathan Muse, whose job is to protect Lizzy from becoming the latest victim in a family feud nearly five hundred years old. Could that be why the mysterious, eye patch-wearing Dmitri Marlowe is after her? (Spoiler Alert 2—he's the last living descendant of Christopher Marlowe, a friend and rival of Shakespeare's. But keep it to yourself!) Is Marlowe after Lizzy's family fortune rumored to be kept in Shakespeare's tomb? Does he seek artistic immortality? Or Revenge (with a capital R) for a death long, long ago?




In a dangerous game of cat-and-mouse, Lizzy and Sammy are thrust into the realm of the mythical and fantastic—from satyrs and Cyclopses to Middle Eastern cab drivers and Brooklyn hipsters—in what is truly "an improbable fiction" as the Bard himself once wrote.
7. The Reece Malcolm List - Amy Spalding
Things I know about Reece Malcolm:




1. She graduated from New York University.

2. She lives in or near Los Angeles.

3. Since her first novel was released, she's been on the New York Times bestseller list every week.

4. She likes strong coffee and bourbon.

5. She's my mother.




Devan knows very little about Reece Malcolm, until the day her father dies and she's shipped off to live with the mother she's never met. All she has is a list of notebook entries that doesn't add up to much.




L.A. offers a whole new world to Devan—a performing arts school allows her to pursue her passion for show choir and musicals, a new circle of friends helps to draw her out of her shell, and an intriguing boy opens up possibilities for her first love.




But then the Reece Malcolm list gets a surprising new entry. Now that Devan is so close to having it all, can she handle the possibility of losing everything?