SUPER AWKWARD BLOG TOUR: Super Awkward by Beth Garrod was fantastically funny and abundantly awkward!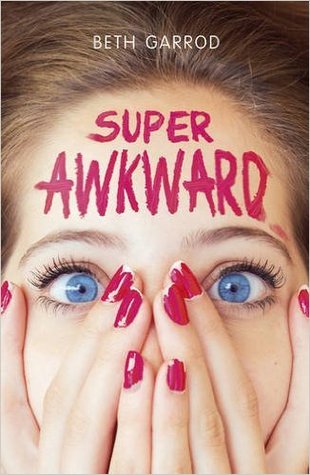 Title: Super Awkward
Series: N/A
Author: Beth Garrod
Genre: Young Adult, Contemporary
Publication: September 1st 2016, Scholastic
Pages: 320 Pages, Paperback
Source: Thank you to Scholastic for sending me this book in exchange for an honest review!
I, Bella Fisher, am absolutely WINNING at FAILING at life.

1. I once got my tongue stuck to a box of Calippos in a supermarket.

2. I accidentally called my geography teacher Mum. Twice. He wasn't impressed.

3. I'm a geek. And not in a geek-chic kind of way, but in a secretly-caring-about-failing-maths-and-science way.

4. I always fail maths and science.




So it figures that when I meet the FITTEST BOY IN THE WORLD, Zac, I'm doing solo star jumps. While dressed as a cereal box.

(NOTE TO SELF, fancy dress = HE-WILL-NEVER-EVER-FANCY-ME dress.)




Now I've got to somehow persuade Zac to come to prom with me while avoiding my evil ex and dealing with a secret so mega-awks I want to Ctrl-Z my brain... What could go wrong?

Oh yeah, that's right. Absolutely everything.
When I was offered the opportunity to review Super Awkward I immediately said yes. I love contemporaries, especially ones that have characters who are as hopelessly awkward as I am and that promise to make me laugh!
I think what I loved the most about this book was its ability to make me burst into a fit of giggles. I found myself snorting and cackling through the majority of this book – except when I was covering my face with my hands because dear Bella really d
oes
get into the most awkward of situations and I found myself cringing incredibly hard alongside her. Super Awkward was funny and real and it made me happy - I'd definitely recommend picking this up if you're in the mood for something that will make you smile!
I really liked the characters as well! Bella is such a fantastic character, she's awkward, she gets herself into the most ridiculous of situations, she sometimes makes bad decisions that lead to even more awkward situations but I love the fact that she can laugh at herself, I love her loyalty, honesty and her self-confidence. She doesn't try to change who she is (well, sometimes, but I think she's learnt her lesson now!), she'll sacrifice all her dignity if it means winning back her friends and her heart of gold and sense of humor shone through the pages making her a heroine that's easy to love!
There was a fantastic cast of secondary characters, too. There were Bella's two best friends, Teagan and Rachel who I adored! I love it when books have strong female friendships that work on building each other up and supporting one another – female empowerment is always wonderful to read about! I also loved how the author incorporated a strong sisterly bond into the book! Family is incredibly important to me so whenever a book has excellent family dynamics it's guaranteed that I'm going to love it even
more
. I loved how although Bella and Jo sometimes fought they were always there to support one another and guide one another. MUCH ADORABLENESS.
I won't say too much about the romance as it could be somewhat spoilery but I thought it was cute and it definitely took a turn that I wasn't expecting. I'm hoping that there'll be a sequel as I'd love to see how things develop between Bella and her love interest!
I really enjoyed the plot too, it was fast-paced, there wasn't a singular dull moment and there were
many
situations that had me laughing out loud, which may have made me look slightly crazy but hey, I was having too good a time to care about that.
Super Awkward is wonderfully real, fabulously funny and hilariously awkward! With a lovable main character, a dynamic trio of friends that emphasizes girl empowerment, sweet romances and heart-warming family dynamics, Super Awkward is a summer read you
can't
miss!
I give it: 4/5 cupcakes!