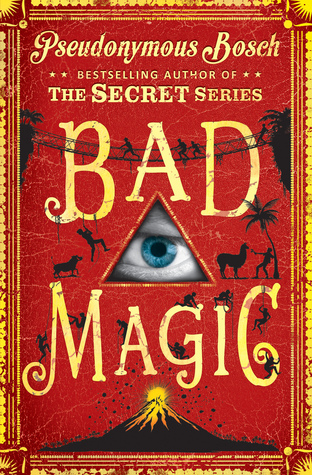 Title: Bad Magic
Series: Bad #1
Author: Pseudonymous Bosch
Genre: Middle-Grade, Fantasy
Publication: September 1st 2014, Usborne Publishing
Pages: 384 Pages, Paperback
Source: Thank you to Usborne Publishing for sending me this book in exchange for an honest review!
Rating: 5/5 Cupcakes!
This book is incredibly BAD. It does not contain MAGIC. Or a mysterious ghost girl. Or spontaneous combustion. Or Spanish-speaking llamas.




Nope. None of these things.




Okay... maybe one of these things. But certainly not MAGIC.




It's just an ordinary tale of a normal boy who goes to summer camp on a desert island. Nothing exciting or weird happens. The camp is definitely NOT for crazy, badly-behaved kids, and there are NO SECRETS or MYSTERIES at all.




And absolutely NO MAGIC whatsoever...
You know when you pick up a book and you start reading it and you feel as if the book is a vortex, ensnaring you and never relinquishing control? When you feel as if you're living and breathing the words, the story and the characters? You know, the most magical feeling ever? That's how I felt whilst reading this book. It drew me in from the first page, it gave me a whirlwind adventure, it made my imagination soar and it made me fall in love with reading all over again. I'm not sure why I was so hesitant to pick this book up as I loved the author's other books which I read when I was around 12/13, but I'm so incredibly happy that I finally read Bad Magic as it set my imagination free, allowed me to think the impossible, it reminded me why I fell in love with reading in the first place...it can only be what you would call magic.
The thing that made me first fall in love with this book is the plot. Guys. The plot, it was brilliant. Summer camp, eerie happenings, ghost girls, survival training, volcanoes and

magic

–

this book was so much fun to read and I haven't felt as immersed, as transported, as I did whilst reading this book in quite a long time. I loved the sheer excitement and how completely riveted I was during the entire book. This book feels like magic and surely it is? It takes such a very special book to paint such a vivid, brilliant image in my head. Reading this book might be the most fun I've had in a while, just saying.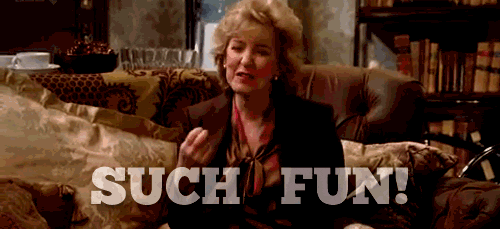 I loved the characters and becoming acquainted with them made me realise just how much I love reading middle-grade books, something I haven't done in a while. The characters were so fun, imaginative and optimistic and possessed characteristics that only children can really have. After having a day filled with physics, maths, exam results and anxiety it was so refreshing diving into a book rife with magic and adventure. It took me back to being twelve years old (the age I was when I first read a PB book) and that was such a lovely feeling – free-falling into my childhood.
Clay, Max-Ernest's younger brother (MAX-ERNEST IS FROM THE FIRST SERIES. MY FANGIRL HEART EXPLODED) is such an incredible kid and I immediately clicked with his character. He's confused and lost and slightly angry at the world because of his brother's sudden disappearance, but he's also so brave, clever and kind. A very lovable protagonist! I adored all the other characters as well; Kwan, Pablo, Jonah, Leira, Mira...they were all wonderful and had unique voices and distinct personalities.
The writing was stellar too. Pseudonymous Bosch is such an excellent writer – he crafts magic, with words as his medium. His books are always vibrant and entrancing and I think a lot of that is due to his brilliant writing. It's comical, it's descriptive, it's witty and captivating and just perfect, basically. I still can't believe that I didn't read this book sooner but I'm so glad that I finally did as it reminded me why he secured a place on my favourite authors list all those years ago.