This wonderful meme is hosted by IceyBooks! I never know what to read next and it would be much appreciation if you guys commented on what you think my next read should be!
1. The Iron Trial - Cassandra Clare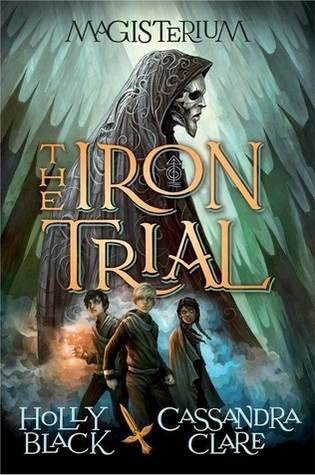 From NEW YORK TIMES bestselling authors Holly Black and Cassandra Clare comes a riveting new series that defies what you think you know about the world of magic.




From two bestselling superstars, a dazzling and magical middle-grade collaboration centering on the students of the Magisterium, an academy for those with a propensity toward magic. In this first book, a new student comes to the Magisterium against his will -- is it because he is destined to be a powerful magician, or is the truth more twisted than that? It's a journey that will thrill you, surprise you, and make you wonder about the clear-cut distinction usually made between good and evil.
2. Harry Potter and the Philosopher's Stone - J.K. Rowling
When a letter arrives for unhappy but ordinary Harry Potter, a decade-old secret is revealed to him that apparently he's the last to know. His parents were wizards, killed by a Dark Lord's curse when Harry was just a baby, and which he somehow survived. Leaving his unsympathetic aunt and uncle for Hogwarts, a wizarding school brimming with ghosts and enchantments, Harry stumbles upon a sinister mystery when he finds a three-headed dog guarding a room on the third floor. Then he hears of a missing stone with astonishing powers which could be valuable, dangerous – or both. An incredible adventure is about to begin!
3. The 100 Society - Carla Spradbery
For sixth-form student Grace Becker, The 100 Society is more than just a game; it's an obsession. Having convinced her five friends at Clifton Academy to see it through to the end, Grace will stop at nothing to carry out the rules of the game: tagging 100 locations around the city. With each step closer to the 100-mark they get, the higher the stakes become. But when the group catches the attention of a menacing stalker - the Reaper - he seems intent on exposing their illegal game, tormenting Grace with anonymous threats and branding their dormitory doors with his ominous tag.




As the once tight-knit group slowly unravels, torn apart by doubt and the death of a student, they no longer know who to trust.




With time running out, Grace must unmask the Reaper before he destroys everything she cares about for ever...