I've seen this tag circling around booktube and the blogosphere and even though I wasn't tagged by anybody, I'ma do it #somuchrebel. BECAUSE I LOVE TAGS. So if you want to do this, I tag you. You're welcome.
I can not believe it's midyear already! I swear it feels like it was January a month ago. I think the reason my year has flown by so quickly is because I've had so much school work and my life has been utterly consumed with studying, coursework and past papers this year. The days go by so quickly when you're working so much and it's going to be even busier from September. Please send help. ANYWAY, I've read quite a few good books this year. I haven't read a lot of books but I've read a substantial amount, some have been brilliant, others not so much. LET'S GET INTO THE TAG!
1. Best book you've read so far in 2017?
I think you mean best books. I can't simply choose one! The amount of favourite books I've discovered this year is pitifully small compared to previous years which makes me sad. Am I getting fussier or am I just not reading absolutely amazing books? THE WORLD MAY NEVER KNOW. However, I have read three amazing books this year that have made it onto my favourites list. I present to you:
THESE THREE BOOKS MAKE MY LIFE. I read the first book on the second of January this year and if I even think about it I want to start crying. It's one of those books that made me think and it made me feel (boy, oh boy, it made me feel) and I thought about it for months afterward. It was hard-hitting, it was raw, it was funny, honest, unflinching...I loved everything about it. I read it in one day (that virtually never happens) and I stayed up super late reading it and I remember having bad chest pain during *that* scene because I got so, so emotional. Gee, this is turning into a mini review. ANYWAYS, it's absolutely amazing and you should definitely read it!
Bone Gap...holy heck, Bone Gap. Let me tell you a little story about this freaking gem of a novel. It's magical realism, right? Magical realism and I don't get along. At all. It was a book I was offered to review and I think the only reason I accepted was because I had heard a few bloggers say they had loved it even though I wasn't sure *I* was going to love it but you never know, right? Anyway, I put off reading it for months because there were other books I wanted to read that I was certain I was going to love so it took me awhile to get around to reading it. Then I opened the book. Read a couple of pages. And immediately fell in love. I devoured it, it became a part of me. I loved it so much that a couple of days after finishing it, I read it AGAIN. I HAVE NEVER DONE THAT. EVER. It's such a magical story and you should definitely read it. Here's my review: http://blogofabookaholic.blogspot.com/2017/03/my-2450-word-love-letter-to-bone-gap-by.html.
It's 2450 words long though, so make sure you have a cup of tea and a snack before you read it.
Honourable mentions: First Girl by Gloria Whelan, When Hitler Stole Pink Rabbit by Judith Kerr, Darkmere by Helen Maslin
2. Best sequel of 2017 so far?
I just realised I've read pretty much no books that are part of a series this year, they've mostly been standalones and the sequels I have read I didn't LOVE enough to mention here. BUT I did read one sequel that I LOVED and that was ...And a Happy New Year? by Holly Bourne. I absolutely LOVEEEE the Spinster Club trilogy and this novella made me so emotional, it made me laugh and it made me cry and I absolutely loved it!
3. New release you haven't read yet, but want to?
PRETTY MUCH ALL OF THEM. I'm literally so far behind it's actually pathetic. My top ones that I NEED to get to but haven't yet are:
AND THESE AREN'T EVEN ALL THE 2017 RELEASES I NEED TO GET TO. *runs around screaming, having an existential crisis, the usual* I have Carve the Mark and Once and For All on my bookshelf waiting for me! I'm hoping to purchase Strange the Dreamer (LAINI TAYLOR, I LOVE LAINI TAYLOR), Never Say Die (Alex Rider is one of my all-time favourite series) and Lord of Shadows (Cassandra Clare, duh) soon because I've loved all the authors' other books. I've reserved Caraval, Flame in the Mist and One of Us is Lying from the library so hopefully they'll come in shortly!
4. Most anticipated release for the second half of the year?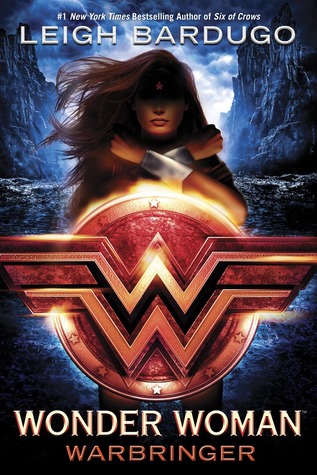 I'M SO EXCITED FOR THIS BECAUSE WONDER WOMAN I LOVE WONDER WOMAN (even though I still haven't seen the movie UGH) BUT I LOVE THE COMICS AND THE ANIMATED FILM AND JUST EVERYTHING DC FOREVER YES PLEASE.
5. Biggest disappointment?
This book sounded perfect and can we just admire that cover?! IT'S SO BEAUTIFUL. I really thought I'd love it because NORSE MYTHOLOGY. I hadn't read a book before this one that involved Norse mythology, I'd only read books revolving around Greek mythology. I was fully expecting to love this but it was so boring and the main character whined constantly and I was just so disappointed because it had so much potential. WHY DO YOU DO THIS TO ME PRETTY BOOK, WHY?! Also: you can read my full review here. It's slightly ranty but those are fun, right?
6. Biggest surprise?
I loved this book so much more than I thought I would have and in fact, I never would have picked it up if it weren't for it being chosen as my library's book club's choice of the month. I was under the false impression that this book was about horses. Dark horses, to be specific. Dark horses in the literal sense and not the metaphorical sense, to be more specific. I swear I saw this book with a horse on it once and also "mere" and "mare", it's easy to misread one for the other. So yes, I avoided this book purely because I thought it was a horse book. I LOVE horses but I don't like reading about them. Anyway, IT'S NOT ABOUT HORSES. THERE ARE PRETTY MUCH NO HORSES IN THIS BOOK. It's actually about haunted castles and ghosts and tragic, gothic romances. It's dual POV from a girl in the 21st century and a girl in the 19th century. It's an absolutely incredible book that I loved a lot and it was definitely a brilliant surprise! You can read more of my thoughts here.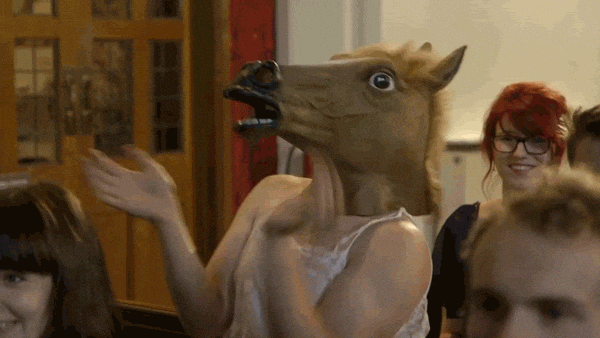 7. Favorite new author (debut or new to you)? Freaking Laura Ruby and Jeff Zentner! They're absolutely incredible. I adore Laura Ruby's writing, it's utterly beautiful and golden and GOALS (to put it simply). I also LOVEEEDDD being introduced to Jeff Zentner's books. He writes everything with so much honesty, his books feel so real and I love how he's not afraid to talk about difficult topics and I appreciate that he talks about said topics in such a lyrical, poignant manner.
If you two read this (which I doubt but miracles do happen)...I LOVE YOU AND YOU INSPIRE ME SO MUCH AND YOUR BOOKS HAVE MADE A HUGE IMPACT ON MY LIFE.
8. Newest Fictional crush?
Let me tell you about my boy, Aidan, from Unconventional by Maggie Harcourt. He's a writer and he's funny and he's sweet and adorable and he writes books that make you feel as if they were written for you. He's so adorable and I love him muchly. You can read more of my fangirl ramblings on Unconventional here!
9. Newest favorite character(s)?
OKAY BUT LIKE, THIS IS A REALLY HARD QUESTION BECAUSE THERE ARE SO MANY, HOW DO YOU EXPECT ME TO ANSWER THIS?? *heavy breathing because pressure*
Okay, so I'm just going to add an s on the end of "character" (who knew I'd turn into such a rule breaker, not I). There we go. Better.
So, I LOVEEE Dill, Travis and Lydia from The Serpent King. So much. They're all so vastly different and complex and they feel like genuine, real people. I hope I can write characters half as good as Jeff Zentner because he's utterly incredible at writing characters. Dill and Travis have such horrible home lives due to their fathers and Dill is this quiet, wonderful character who I fell completely in love with and Travis is this gentle giant who wants nothing more than to reread his favourite fantasy series over and over again. Lydia is bubbly and has big dreams for herself (she's a highly successful blogger) and I absolutely adored her, too. I just love those three so muchm I can't quite describe it.
Then there's Finn and Sean O'Sullivan, Petey and Roza from Bone Gap. FREAKING HECK I LOVE THOSE FOUR. Finn and Sean are also so different but so wonderful. Finn is gentle and kind and quiet and a dreamer and Sean is big, gentle and caring - I LOVEEEE THEM. Then there's Petey and Roza who are so inspiring and definitely some of the best female protagonists I've ever encountered. I could fangirl about these four all day but you can go read about that in my freakishly long review.
10. Book that made you cry?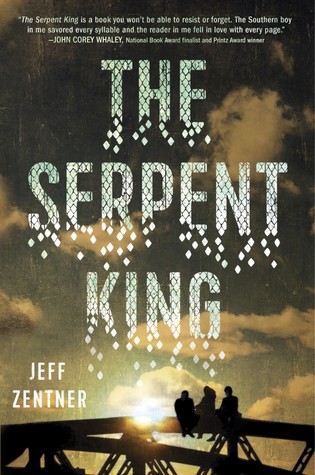 THESE TWO FREAKING BOOKS TURNED ME INTO EMOTIONAL WRECKS. Counting by 7s is an utterly beautiful, heartbreaking story about a twelve-year-old genius who loses both her parents in a car crash. Reading about that hit me hard because it's my utter worst nightmare. I'm with my parents pretty much all the time and I rely on them a lot because I still have bad anxiety that makes it hard for me to do normal stuff. I'm a lot better but not where I want to be. ANYWAY, it's an incredibly moving story and actually such a positive one which I was surprised about. I cried a lot though.
What a surprise. The Serpent King broke me. I cried three times before I was even halfway through the book and I thought that was the only crying I'd be doing. HAHAHAHAHAHA. Ah, the naivety. I cried so, so much more than I thought I would. I didn't actually cry at *that* scene (if you've read it, you know what I'm talking about) because I was so shocked and I didn't actually think it had happened. I thought I was going to have a panic attack though because I was so upset so I'm going to count that as crying because SEVERE EMOTIONS RIGHT THERE.
11. Book that made you happy?
Othergirl made me happy because it was SO MUCH FUN to read! It had superheroes in, friendship, romance...it was just such a cute book and it definitely made me happy!
12. Favorite book to film adaptation you saw this year?
I HAVEN'T SEEN ONE. *cries* I'm waiting on Everything, Everything to be released in the UK (next month!) and I'll definitely be going to see that as it was one of the best books I read last year!
13. Favorite review you've written this year?
Bone Gap review.
Very words, much fangirling. GO READ IT, PLEASE. I also quite like my
Windfall review
, it's in list form which I've never done before so THAT WAS FUN.
14. Most beautiful book you've bought so far this year (or received)?
I'll let the pictures speak for themselves.
15. What books do you need to read by the end of the year?
ALL OF THEM. No but really, I want to try to read quite a lot of 2017 releases before the year is over! And 2016 releases too. WHY AM I SO BEHIND?! I'll probably make a separate post on this because there are SO MANY I want to try to read before the year is done!
THERE'S MY TAG! If you want to participate, I officially tag you. Yes, you. Now go forth and answer these snazzy questions! If you want, leave the link to your post in the comments section so I can check it out!
ALSO, tell me one book you're going to make a priority to read before the year is over?