My anxiety has been pretty good today, which makes me really happy! I managed to walk to town with my parents without having a panic attack (something that's happened a lot in the past) and I called a bookstore asking if they had a book in stock. I get pretty anxious when I have to talk on the phone to someone (it sounds silly, I know) and I did that! SO YAY!
It's my mom's birthday which I'm looking forward to! We're going out for the day (not sure where) and we got her a brownie cake and I AM EXCITED because who doesn't love birthdays?!

If you don't read it all, I don't blame you.
I then spent Saturday and Sunday reading The Breadwinner and First Girl and they were so good and I learnt so much! I highly recommend them if you want to read a book set in a different country and get a fun history lesson at the same time!
BONE GAP IS AMAZING. THE CHARACTERS. THE WRITING. THE PLOT. THE GENRE. I LOVE IT SOOOOOOO MUCCCHHHHH AND EVERYONE NEEDS TO READ IT AND ASKFGLKHG.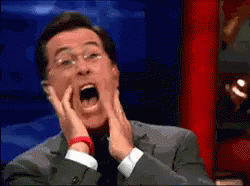 I then read The Breadwinner which was utterly heartbreaking. Set in Afghanistan during the Taliban regime, it tells of the poverty, war and oppression of women and it's heartbreaking. It once again confirmed to me just how much we need feminism, especially in third world countries.
Then I read First Girl which I LOVEEEDDDD, I read it in a couple of sittings and it kept me up late last night reading! I love books set in China, so naturally, I was destined to love this book. The main character was so brave and strong, I loved the scenery, I loved learning about the culture and I TOTALLY ship Chu Ju and Ling.
I've heard SO many good things about this book and it's been on my wishlist since I was 12/13 so I AM READY.
I'M SO EXCITED TO READ THESE. Especially When Hitler Stole Pink Rabbit because I know it's going to break my heart and who doesn't want that?
What did you read this week and tell me: which book have you reread the most?