A Girl Called Owl by Amy Wilson - A lighthearted middle-grade from the perspective of Jack Frost's daughter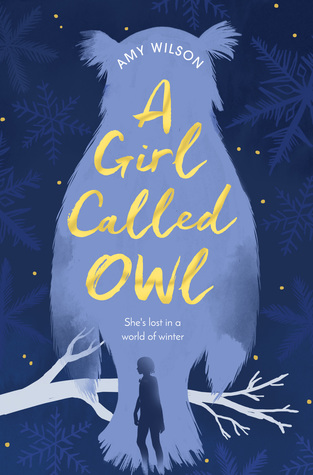 Title: A Girl Called Owl
Series: N/A
Author: Amy Wilson
Genre: Middle-Grade, Contemporary
Publication: January 26th 2017, Macmillan Children's Books
Source: Thank you to Pan Macmillan for sending me this book in exchange for an honest review. This has in no way affected my opinion.
Rating: 3/5 Cupcakes!
It's bad enough having a mum

dippy enough to name you Owl, but when you've got a dad you've never met, a best friend who needs you more than ever, and a new boy at school giving you weird looks, there's not a lot of room for much else.




So when Owl starts seeing strange frost patterns on her skin, she's tempted to just burrow down under the duvet and forget all about it. Could her strange new powers be linked to her mysterious father?And what will happen when she enters the magical world of winter for the first time?




A glittering story of frost and friendship, with writing full of magic and heart, A Girl Called Owl is a stunning debut about family, responsibility and the beauty of the natural world.
When I was offered a copy of this book to read, I was ecstatic! I absolutely adore books that feature characters with elemental powers and with this book also seeming to emanate Frozen vibes, I was convinced that I was going to fall head over heels in love with it but I'm sad to say I was left feeling somewhat disappointed by A Girl Called Owl.
The one thing I loved about this book was the original concept. We have thirteen-year-old Owl, with her large eyes and the tufty blonde hair that lives in a house with her artistic mom, she's best friends with a girl called Mallory and during lessons she doodles owls of all shapes and sizes on pieces of paper. She's happy, except, there's one thing that has left a hole in her heart - she hasn't ever met her father and when she asks her mom who he is, the subject is either avoided or her mom replies with stories of a not-so-mythological land that is not-so-far-away that don't exactly answer Owl's questions. One day at school, Owl notices a strange formation of patterns resembling snowflakes appearing on her arms and frost begins to coat objects she comes in contact with. As her powers grow stronger and wilder, she confronts her mother who tells her her father is none other than Jack Frost. As Owl goes on a journey to find her father, one that will challenge her physically and emotionally she'll make friends, enemies, learn the true extent of her powers and discover a breathtaking world that Owl thought she could only ever have imagined. It was fascinating reading a book from the perspective of Jack Frost's daughter and I enjoyed the fresh, original take on the tale of the mysterious Man of Winter and I thought the author wonderfully intertwined mythological elements through the book. The novel managed to straddle the line between mundane life and the extraordinary beauty of the fae world and I felt as if I was being swept up in this magical world alongside Owl, moving from normality to the extraordinary. I loved reading about the transition between quiet Owl living her everyday life and feeling quite unexceptional to confident, self-assured Owl dancing between a flurry of snowflakes escaping from her fingertips as she realises the true power simmering beneath the surface.
Another thing I loved about this book was the magical fairy world that I could imagine vividly due to the author's enchanting, melodic writing style. I loved the atmosphere and world building in this book as even though I didn't get to spend much time in the fae world, it didn't bother me as much as the real world was also described in a striking manner. When I wasn't surrounded by sprites, fairies and ethereal beings bathed in a golden light, I was in the real world with Owl who was painting the world with the shades of winter. I could picture the houses laden with frost, resembling fairytale houses with sugared powder sprinkled on the top. Crystal particles adorning the branches and bushes and starlight reflecting off of snowflakes dancing under the golden hue of a streetlight. I could hear the crunch of frost beneath my feet and feel the chill of winter stinging my skin. I could vividly conjure stunning images of not only the fairy realm but of the natural world - the way that winter was described made me fall in love with the severe beauty of iced lakes and sugar dusted sidewalks. A
s I was reading A Girl Called Owl, there was frost lining the houses outside and it was easy to imagine Owl and Jack Frost sprinting from the rooftops, dousing the world in the breathtaking beauty of winter as the dawn began to break - it made me feel as if I was a fingertip away from a world filled with creatures and magic that I've only ever dreamed about.
Despite loving those aspects of the book, there were two things I had a slight issue with: the characters were lacking in personality and I found myself bored quite often. I wanted to love the characters but I couldn't connect to them. Mother Earth and Jack were brimming with personality, especially Jack who was charismatic and outrageously mischievous. He was full of sass and had an audacious nature and I would've loved to see more of him in the book, however, Owl, Mallory and Alberic took center stage. I really wanted to like them but they were extremely dull. Owl didn't have any distinct character traits or endearing flaws, she felt quite two dimensional and I didn't find her voice particularly compelling. Not only that but my apathy towards her morphed into dislike after seeing how she lied to her mother and didn't treat her very well. She would sneak out to meet Jack Frost/do wintery things/go to the fairy realm and never tell her mom who had been wanting to see Jack Frost desperately after not seeing him for thirteen years and who fell in love with the fae when she visited the realm, but Owl didn't tell her at all even though she knew her mom would've loved to see him again, which was so selfish of her. ALSO, she would sneak out and disappear and her mom would (obviously) be extremely worried but she never really did anything to stop Owl and there were no boundaries set in place and I was like ?? Another thing, Owl never explained the situation to appease her mom and I mean she really could have told her mom as she knew all about the world but no. It just didn't make sense and I still don't particularly understand why didn't just tell her mom, then she wouldn't have had to sneak out all the time either. Another thing that infuriated me about Owl was that she never listened or thought things through, she was constantly putting herself and others in danger despite being warned about the consequences of her actions. CAN YOU NOT. I liked Mallory well enough but I found her to be quite a bland character and I didn't particularly feel anything towards her. Then there was Alberic as well whose character I wasn't fond of at all, he was quite harsh and lacking in empathy and I just didn't fall in love with any of the characters as much as I was hoping to - none of them felt real, none of them felt like they had become a friend once the final page had been turned.
As I stated previously, I was bored during this book, guys. Not once did I find myself completely gripped by the story and I found the story lagged in several parts and whenever I put the book down, I didn't particularly have a strong desire to pick it back up. I Even towards the end when I was expecting there to be a fight/major conflict (as that's what the book suggested was about to happen) there was an incredibly anticlimactic scene and I was just expecting more adventure, more intrigue, more danger, just more, but I wasn't met with that at all.
A Girl Called Owl had a lot of promise and I was expecting an enchanting, whimsical novel filled with unconventional characters, enthralling escapades and sinister fae however, I found myself reading about lackluster characters, an insipid plot and a muted version of the incandescent story I thought I was going to become acquainted with. I felt as if though this book was lacking in depth and that the characters didn't go through much development, they didn't transform into better people that I grew to love. Although I liked the author's writing style and I loved that the author wrote a book from Jack Frost's daughter's perspective, it wasn't enough to salvage the book for me.
I give it: 3/5 cupcakes