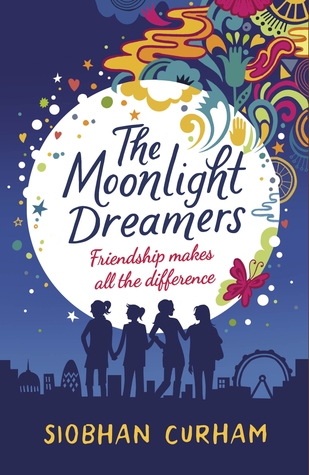 Series: N/A
Author: Siobhan Curham
Genre: Young Adult, Contemporary
Publication: 7th July 2016, Walker Books
Pages: 347, Paperback (ARC)
Source: Thank you so much to Lovereading4kids and Walker Books for sending me a copy of this book in exchange for an honest review!
Rating: 5/5 cupcakes!
A inspirational, heart-warming book about four girls trying to find their place in the world. Siobhan Curham celebrates very different but like-minded friends in this captivating novel.




Amber craves excitement and adventure. Instead, she's being bullied at school for having two dads, and life at home isn't much better. Inspired by Oscar Wilde, Amber realizes that among the millions of people in London, there must be others who feel the same as she does; other dreamers – moonlight dreamers. After chance encounters with Maali, Sky and Rose, Amber soon recruits the three girls to the Moonlight Dreamers. It's high time they started pursuing their dreams, and how better than with the support of friends?
Where do I begin? Or even, how do I begin? I finished this book a few hours ago and I deluded myself into thinking that time would help me formulate words adequate enough to describe the astronomical love I have for this book but hours have passed and I'm still wondering how I can put my adoration for this book into words. There hasn't been a book I've read in a very long time that has spoken to me in the way that The Moonlight Dreamers did.
I absolutely loved everything about this book, it was so heartwarming and it made my heart so happy and gosh, this book just means the world to me, really.
I felt like this book was written for me. It
was
me.
The Moonlight Dreamers is the kind of book that melds with your being and settles inside your heart and you know, with an unyielding certainty, that it is a book that is the missing piece to the puzzle of who you are as a person. It was breathtakingly beautiful, it was comforting, it was everything I wanted, and everything I needed.
One of the reasons I loved this book so much was that it was a book that found me when I needed it the most. Confession: lately I've been struggling with finding friends and with accepting my shy/awkward personality. I've been battling to accept the fact that I'm introverted and conservative about things that most people wouldn't bat an eyelash at, I'm not that into makeup, partying and fashion like a lot of girls my age. And quite a lot lately I've been wondering if I'll make friends who are similar to me. People who would rather sit and stare at the stars and discuss the meaning of life while classical rock music intertwines itself with the night air, people who would rather sit at home, eating pizza and reading then going partying. People who aren't going to settle into a pattern of being like everyone else, people who I belong with – people like the Moonlight Dreamers. This novel finding me at this point in my life is something like fate, I am certain of that. Within the first few pages I was reduced to tears, not sad tears, but tears of relief,
happy tears
because within the first few pages I formed a friendship with the characters. Characters who felt exactly the way I did. A character who echoed my thoughts so spectacularly that I felt as if the author had been inside my mind.
They were me and I was them and in that moment of pure serendipity, I felt as if I belonged.
This quote specifically knocked the breath from my lungs and made me clutch the copy of my book because for once
, I felt
understood
and isn't that what we all want?
"For the first time all day, Amber felt a prickle of hope. She was in the heart of London, surrounded by millions of people. Surely there must be other people like her out there somewhere. Other people who didn't fit in, or want to fit in, other people who craved excitement and adventure. Other moonlight dreamers."
There were pieces of me in every character and reading about them, being with them, made all the shards of my heart that had been punctured from being labelled "too quiet" or "too nerdy" or "too anxious" were stitched up in a way that made me feel whole again. The Moonlight dreamers collected all my doubts and insecurities and discarded them, leaving in its place. the exceptional serenity of acceptance and understanding.
The characters were all so wonderfully written. They were real, they were flawed, they had insecurities and worries, they had hopes and dreams - reading this book made me feel like I had made the most extraordinary of friends. The positive female friendship was stunning, the writing was scrumptious and the plot riveting. I devoured this book in two or three sittings and it was one of those books where as I read, reality peeled away and I was left in the stunning kaleidoscope of ebony and ivory, paper people that feel as if they're spun from love, dreams and spirit - just as we are. Once you start this book, you will be entirely transfixed. You won't be able to maneuver your eyes from the page, nor would you want to.
As I said, the characters are so, so amazing and I wish that I was able to teleport them out of the book and into my world so I could have them as a group of friends. Every time I was away from this book and engaging in activities that seemed tedious in comparison to spending my afternoon in this novel, I missed the characters. I genuinely missed them because within a few chapters they had captured my hearts with their quirks and their oddities. I opened up this book and I climbed inside it and I felt as if I was walking into a place I called home.
We have Amber, the girl who is in love with Oscar Wilde (I love Oscar Wilde too so when I read that I was like "Very good choice, Amber!"), who is fascinated by words, the girl with two dads and the girl who feels like an outsider because she dares to be herself in a world that demands her to be something else. I absolutely adored Amber and she was a character I immediately clicked with. I love the fact that she dreams herself a better life and makes a plan to turn those shooting star wishes into a reality. She made me realise that there are people like me out there, I just have seek them.
We also had Sky. A home schooled girl who lives on a boat with her father, a girl who is in love with writing poetry and a girl still reeling from the loss of her mother. I absolutely adored Sky! She was so sweet and kind. I loved the fact that she was home schooled (like me!) and she wasn't portrayed as stupid or socially inept as many people still believe that stereotype of home educated people that is quite frankly very insulting. So thank you to Siobhan for including a home schooled character that wasn't a cliché.
"

She'd learned long ago that when you lost a person, you didn't just lose them on the day they died, you lost them every day all over again in moments like this."
Then we have Maali who was probably my favourite character. She's a hopeless romantic who daydreams about finding love but she's incredibly shy and awkward around boys and I could relate so much. She acted exactly as I do whenever I have to speak to guys and her misadventures in trying to find love made me giggle and had me saying "SAME" throughout the entirety of the book. Not only was she funny, she was such a lovely character. It's quite rare in books to ever see characters that are like that and characters who are really set in their faith so YAY for that! She was also a diverse character as she was Asian and from the Hindu faith, so it was interesting seeing her culture interwoven through the book.
My other favourite character was Rose who I adored despite her determination to uphold the facade of being a catty brat. Rose was a complicated character but I loved her nonetheless. She's the daughter of a top supermodel and a famous actor and her mother wanted nothing more than for Rose to follow in her footsteps and insert herself into the modelling industry but Rose wants to ride motorcycles and bake cakes that taste as if they're made from love and miracles. She didn't desire fame and fortune but instead wanted to continue to find the solace she felt when she was in the kitchen, concocting delicious treats. I could even relate to Rose in a way, as she had moved from the States to the UK and she missed her home. Although she wasn't incredibly homesick, there were times where she longed to be in her home country and once again, I found the characters echoing my sentiments. What I also really liked is that the author showed that even if a person is beautiful, rich and seemingly confident, they also have dreams and deep thoughts and doubts and that there's always more to a person than meets the eye.
Besides the spectacular cast of characters, there were other things that made this novel so incredibly. Falling in love with this book came as naturally as breathing. There was a positive female friendship in this book and practically no romance. I absolutely love romance in books but it was so refreshing reading a book where friendship is the primary focus. I loved how authentic the girls' friendship was. I loved how it showed how having friends can turn your life from a washed out world of monotone colours to a sparkling kaleidoscope of happiness, acceptance and hope. I also liked how realistic this book was. There were girls who didn't get the guys, there were competitions that weren't always won, it didn't give an unrealistic view of life - that things will always go to plan and that the road ahead will be how we want it to be. It was realistic, it was genuine and it was a novel that exhaled hope. Not only that, but the writing in this book is glorious. My copy of this book is scattered with tabs because on almost every page I was able to find a delectable quote or a sentiment that had me giggling or perhaps even reduced me to tears. All I can say is that r
eading this book felt like dancing in a pool of moonlight - extraordinary and magical.
Within the pages of The Moonlight Dreamers I lost myself, but is was within these pages that I found myself too. A sensational, unforgettable novel l that has stolen a piece of my heart. One of the best books I've ever had the pleasure of falling in love with.
I give it: 5/5 cupcakes!
"Sometimes it feels as if things will last forever," Maali said softly, "especially the bad times. But they never do, because all things are just passing by, just passing through life."
"Sometimes things don't work out the way you want but it's OK, because something good happens instead."
"I wish I'd made a chain so long it still bound us together. Do they have daisies in heaven?"
"

Beauty blows heart-shaped smoke-rings in Pretty's face and says, 'Come back when you've lived a little.'"