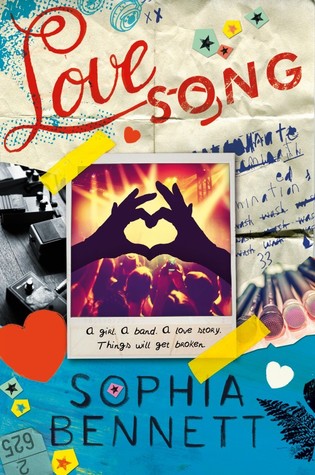 Title: Love Song
Series: NO BUT I WISH THERE WAS
Author: Sophia Bennett
Genre: Young Adult, Contemporary
Publication: Chicken House Books, April 7th 2016
Pages: 384 Pages, Paperback
Source: Thank you to Chicken House Books and LoveReading4Kids!
Rating: 4.5/5 CUPCAKES!
A million girls would kill for the chance to meet The Point, but Nina's not one of them.


She's the new assistant to the lead singer's diva fiancée, and she knows it's going to suck. She quickly learns that being with the hottest band on the planet isn't as easy as it looks: behind the scenes, the boys are on the verge of splitting up. Tasked with keeping an eye on four gorgeous but spoiled rock stars, Nina's determined to stick it out – and not fall for any of them …




The new novel from the popular and highly-acclaimed author of

You Don't Know Me

,

The Look

, and the

Threads

series.
When I heard of this book I
knew
I had to get my hands on it. I absolutely love books that contain music and fame and lifestyles of celebrities, probably because I grew up on Hannah Montana and wanted to be a pop star when I was younger. This book was so much fun and it swept me away into the lives of rock stars, showing me the dark underbelly of the glamorous facade that many of them live. This book had me laughing, smiling and crying and I just fell so completely in love with it. A delightful main character, a bunch of complicated, lovable rock stars that are trying to remember where it all began, delicious writing and the terrifying but exhilarating venture into first love...and first heartbreak, Love Song was everything I wanted it to be and more.
Love Song features seventeen year old Nina who gets what most people deem to be the opportunity of a lifetime: she gets to tour with The Point – the most popular band on the planet. When Nina accompanies her thirteen year old sister to The Point's meet and greet, she doesn't expect to end up saving the life of the band's lead singer's fiancée and getting a job offer in the process. Being an assistant to the super-rich and famous reality TV star, Sigrid, Nina is expecting tantrums, parties and more drama than she's willing to face, however, as she spends time with the four most famous faces on the planet, she begins to realise the layered depths each of them have. She sees beneath the masks that they're all wearing, she sees their fears, their dreams and their panicked wish to find the right path. The more time she spends with them, she realises one of them has captured her heart...and she might have captured his too. Nina knows that there's only one way this can end...in heartbreak.
I absolutely ADORED this book. The characters, the plot, the writing...everything was so brilliantly combined to form a heart-warming, enthralling read. At first I was scared that I wouldn't like Love Song that much as I've never seen the reason behind the obsession of boy bands and the first chapter contained quite intense fangirling from a few characters in the book which was terrifying but
so
realistic - yet a few pages in, Love Song had me hooked. I haven't read a book in a while that has had me up until the early hours of the morning, bleary-eyed, mumbling "Just one more chapter" or a book that I'm so feverish to get back to reading. Love Song is truly an addictive read and I recommend that you've done all you need to do before you sit down to read this book as you will want to devour it in one sitting – it's just
that
good.
The characters were incredible. I
loved
Nina and I felt she was an incredibly realistic character that many girls can relate to - myself included. She was sensible, smart, mature and cautious. I loved how she was unique in the sense that she loved art and engineering and you don't generally see books that contain female characters that are interested in mechanics, so I really appreciated the fact that Nina was a character that enjoyed something that wasn't stereotypical. What I also loved about Nina was how
real
she was, she was layered and had dimensions and she felt like a real person – by the end of the novel, she felt something like a best friend. I loved how the author portrayed a character who was scared to fall in love again after having her heart broken but despite that, she threw caution to the wind and allowed herself to be reckless in the pursuit of love - it was inspiring. I'm a very cautious person and I always think of the worst case scenario and I'm scared of experiencing things in life because I'm not confident in my ability to deal with the aftermath of things gone awry...but this book gave me encouragement. Nina made me realise that being sensible and having your heart on guard isn't the way to live life. We were made to love and with that comes hurt and pain but it's worth it. That sometimes we have to shed our fears and insecurities and just allow ourselves to be. Laced between layers of love, lyrics and lost ways, Love Song was an empowering read.
All the other characters were layered and multi-dimensional. Every single character in this book had their own distinct personality and I fell in love with every one of them (except Sigrid, but that's understandable). The four boys who made up The Point were Jamie, Angus, Connor and George and they stole my heart away in the blink of an eye. I can also say I have officially found a new book boyfriend in the form of Jamie, the lead singer of The Point, he was charming, kind and romantic and I just fell completely in love with him. Then there was Angus who I ADORED. He was funny and he was kind despite having a tortured soul. I loved the friendship that developed between him and Nina – it warmed my heart. George, Connor (and Declan) were characters that I fell in love with as well. In fact, I'd love a book from each boy's perspective because these are characters that I'm not quite ready to yet let go of.
Another thing that made my heart happy was Nina's family. Family dynamics in books are something that I always look for as I think family is such an integral part of life, so when I saw Nina's fantastic relationship with her mom, her dad, her siblings and her cousins it made me fall in love with this book a little bit more. Her family was so supportive and the love they held for each other was evident – everything about this book, including that, put a smile on my face.
I also loved the romance in this book. It was of the slow burn kind, it was about a cautious girl falling in love with a fearless boy. It was a breathless tale of unlocking the cage where your heart resides and falling into a magical kind of love despite the dance the demons of your past are trapping you in. The romance had me shrieking and crying and smiling and hugging the book to my chest.
Love Song was phenomenal in terms of plot as well. As I said before, this book gripped me in its claws from the first few pages and wouldn't relinquish its hold until I'd turned the last page. It was such a fun read and one that allowed me to get completely swept away in the fractured life of the rich and the famous. I love how this book portrayed what I can imagine is the life of a rock star. You have the world at your fingertips, everyone claiming to love you but you're so alone. It also tugged at my heart to see how lost and confused the boys were about which direction they were going in, where it all began and why they were pursuing this career. Love Song showed how easy it is to lose sight of things and feel like you're losing your identity, but with the right person by your side, the path ahead seems to look slightly less daunting.
Another thing I loved about Love Song was all the music in it. Music is such a colossal part of my life and I've grown up listening to incredible music as my mom and dad have hundreds of CDs and records, so I absolutely loved that part of Love Song. The Nirvana, Led Zeppelin and Beatles references, the thoughts on the indescribable way music can make us feel and the desire to create something like what we've just heard. After I'd finished this book, I was inspired to fill the world with a harmony that had been left unsung.
Love Song was a sensational, heartwarming read that I fell completely in love with. With divine writing, a stellar cast of characters, the exhilaration of love and the devastation of heartbreak combined with a glimpse into the glittering facade of the desolate music industry, Love Song is a book that will leave you spellbound.
I give it: 4.5/5 CUPCAKES!
"Forever started now and it was beautiful."
"...something precious was likely to get broken."
"'I've seized the day, believe me,' he said, with feeling. 'I've seized a thousand days. I seized so many they just began to bleed into each other.'"
"After the third play, it didn't even feel like music - it just felt like the longing inside me, swirling around the room."
"His lip curled. 'I'm not in the mood for girls right now.'
'I saw that. If you were, I wouldn't be here.'"